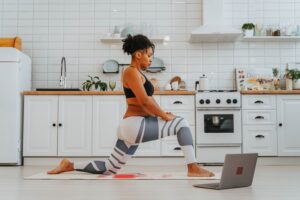 Image courtesy of Pexels
More than 500 centuries after its invention, yoga remains a popular and growing practice. Yoga classes are offered in almost every city in the world, and the opportunities to practice whenever and wherever continue to expand. Even though it hasn't strayed far from its ancient roots, the practice of yoga is fully embedded in the modern world, especially as it complements weight and circuit training at home.
It has become an essential life practice for many, helping improve wellness and relieve stress, which is especially important for those experiencing increased stress during these troubling times. If you've been wanting to take your practice to the next level, it's time to embrace some technological advances, presented here by Fit to You.
Getting Yoga Advice From Experts
The internet is a wealth of information, and learning about nearly any subject is just a mouse click away. Yoga is no exception. Self points out that modern yoga practitioners can watch video channels from accomplished yogis while they follow along at home. Check into in-home workout instruction from Fit to You to reach new levels of fitness!
For your practice sessions, make sure your space is set up to maximize your experience. Create a sanctuary in your home by choosing an area that affords some privacy and doing some decluttering, which can help you eliminate "negative energy" and keep your anxiety and stress levels in check. Choose colors that are calming — All American Painting Plus suggests neutrals or warm colors — and consider filtered lighting rather than harsh, bright lights.
Yoga with Gaming Consoles
When you want to shake things up a bit, consider gamifying your yoga routine. Video game consoles are a great option for people who want to exercise but don't want to leave the comfort of their homes. What's more, Superprof notes there are even games available for the systems, Xbox and PlayStation that are yoga specific. Some of the options out there can provide feedback on poses in lieu of an in-person instructor, too.
Smartphones and Yoga
Do you have a smartphone and are thinking of employing it as a partner in ramping up your yoga game? There are apps aplenty for the yoga user! A lot of yoga apps have content that runs the gamut between beginner and advanced poses, plus there are classes, you can delve into different yoga styles — there is something for everyone, and you have the opportunity to get out of your comfort zone. You can even get a stand to hold your phone right where you need it while you're doing your flows.
It's not unusual to start adding apps to a phone and realize you're bogging down the phone's system. In that case, it might be time for an upgrade. You can land some pretty sweet deals these days, and some providers even let you swap your device for a reduction on the cost of the new one. The money you save can go towards an app subscription, classes, or new gear.
Fitness Trackers
Any exercise-meets-electronics article would be incomplete without a nod to the most obvious of tech solutions: a fitness tracker. While many practitioners frown on the use of wearables while engaging in yoga, there are plenty of benefits to those who feel it's the right addition to their regimen. To a point, these little devices are like a coach or workout buddy that you wear on your wrist. Some can even alert you if you're working out too hard, and some will alert emergency responders if you really get into trouble. Even the most basic will typically track things like your heart rate and steps, so if you want a fitness tracker for your wrist, go for it!
Practicing yoga helps with chronic pain, stress, and provides good exercise. There are plenty of reasons to practice yoga, but it can be hard to find the time for a class with busy modern schedules. The good news is that technology can bridge the gap. Anyone can improve their yoga practice, with a screen and a few minutes a day.
Whether you're looking for nutritional guidance, in-home workouts, or corporate wellness instruction, Fit to You is your personal training and fitness coaching resource. Get your free consultation today! 910-200-6641